Preparing for Worship
This Sunday's scripture lessons this are Isaiah 40:1-11 and Mark 1:1-8. This week's hymns are:  #106, Prepare the Way, O Zion, #87 Comfort, Comfort Now My People, and #96 On Jordan's Bank the Baptist's Cry. The sermon is entitled Let there be Peace.
The sermon series for Advent begins this Sunday, Dec. 3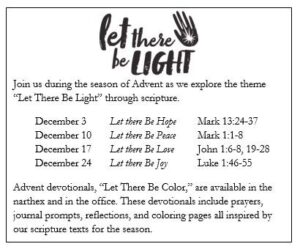 Advent Devotionals, "Let There Be Color", will be available in the narthex and at the office beginning Sunday, November 19. These devotionals include prayers, journal prompts, reflections, and coloring pages all inspired by our scripture texts for the season.
.