2018 Community Mission Opportunity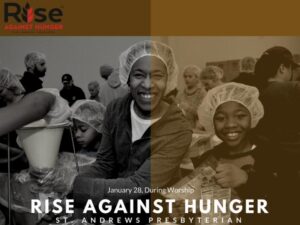 January 28, 2018, as part of the worship service, and with the support of Rise Against Hunger, formerly Stop Hunger Now, our congregation will prepare 10,000 meals in Heffner Hall (as we did in 2014 and 2016) to help fight world hunger. The school we help to support with our Change for Children donations is one of the organizations that benefits from these healthy food donations from Rise Against Hunger. St. Andrews pays for the ingredients for these meals, and that money was provided through the use of our campus from the movie that was filmed at St. Andrews last summer.
Everyone participating needs to sign a waiver so in the interest of efficiency, download and sign the waiver ahead of time.  Bring it Sunday, January 21, or Sunday, January 28, and hand your completed waiver to Mike Bearden or Mary O'Brien.  If you can't complete it before the event, there will be lots of blank waivers you can use before Rise Against Hunger starts on Sunday, January, 28.
Rise Against Hunger-Registration and Liability Waiver
Clifton Sanctuary Ministries
Community Mission Opportunity Our newest community mission is supporting Clifton Sanctuary Ministries by preparing and serving meals for 30 guests (residents) on the fourth Sunday of each month. To sign-up to serve click here, or contact Mike Bearden 404-660-8234. Details are posted on the sign-up website.
In Response to Hurricane Harvey, Irma, and Maria:
Presbyterian Disaster Assistance For those who wish to support the PDA's emergency response and recovery efforts, gifts can be designated to DR000169-Harvey.   If you prefer to mail a check, you may send it to:
Presbyterian Church (U.S.A.) PO Box 643700Pittsburgh, PA, 15264-3700
You may also call Monday through Friday, 8 a.m. to 5 p.m. (EST), at 1-800-872-3283 and donate by phone. For updates, please go to pda.pcusa.org.
Please join us in praying for courage for those who are suffering; wisdom and diligence among agencies and individuals assessing damage and directing relief efforts; and for generosity to flow as powerfully as rivers and streams, as we respond to the deep human needs left in the wake of the storm.